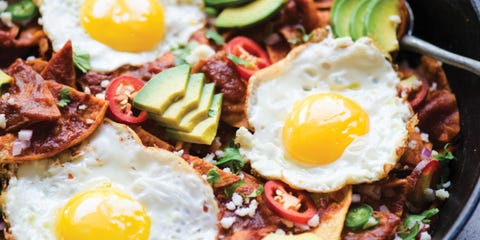 They're versatile, budget-friendly and an egg-cellent source of protein to start your day with – also, we at HQ can't get enough of them. Maybe that's why eggs are such a hit in breakfasts all over the world!
If you love eggs as much as we do, you'll be happy to hear that aside from our featured Egg, Chickpea & Kale Hash, we have some more healthy egg breakfast recipes for you. Plus, a collection of recipe teasers including the exotic Egg Masala Toast and Breakfast Quesadilla. If you're searching for something a bit more classic, look no further than our Spinach & Cheese Omelette as well as our ever popular Egg & Veggie Muffins. Now you'll have everything you need to upgrade your morning so you can 'eat breakfast like a king.'
To yolk or not to yolk?
Eggs are considered a 'complete' source of protein thanks to their nine essential amino acids, packed with nutritional benefits that earn them the reputation as a nearly perfect food. They're also one of the few natural vitamin D food sources and contain heart-healthy fats as well as the essential nutrient choline, key in brain development. That's one hard-working food.
Though both the yolk and the white of an egg are rich in protein, vitamins, and minerals, yolks have generated controversy for many years. So let's take a look at the merits of both the whites and yolks in more detail.